Administrator
Staff member
Administrator
Chief Moderator
Moderator
Joined

Jun 19, 2019
Messages

2,983
Reaction score

14,488
Points

134
Location
Dear World of IPTV Members,
we would like to notify you about a new important decision that we have decided. We have added a download database named
Resource Manager
and a
Credit System
to our community.
The Resources Manager is credit based Downlod System. Each members is able to add and offer/sell their own download resources for a certain credits amount.
All other members have to pay the amount to get the download link. The source owner will earn the credits from the sales and the credit goes to credit wallet.
How to get credits ?
You get the credits in different ways.
Add/Sale Download Resources to the Resources Manager and earn credits from your resources
Basic Events (please note: this amounts are valid at the moment, we can add new events and change the credit amounts for the events):
Register = 5 Credit
Daily Login = 3 Credit
Get Follower = 3 Credit
Birthday = 10 Credit
Avatar Upload = 2 Credit
Create New Thread = 2 Credit
Thread get Deleted = -2 Credit
New Post = 1 Credit
Post Get Deleted = -1 Credit
You always can check your wallet: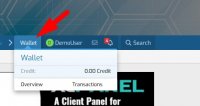 Important Informations for new and old download resources!
All those members who offered downloads as a hidden like link in the past as a thread are forced to convert their thread in to resource
This very important to earn your credits also in the future. [Video Tutorial]
Credit amount and resources mirroring
?
Every one is free to define the credit amount. If someone copy the your source link and add it as source with lower price, you can report it. In this case:
1. the copied resource will be remove
2. the member which copy and put your source with lower credit, will get banned
3. all the earned likes and credits will be remove from his account
Please note, a mirror with same content on a different filehoster and the same credit amount is allowed, if the first (original) poster of the resource does not explicitly prohibit it



Responsibility and credit refund for resources
We are not responsible for member contents and doesn't guarantee 100% functionality of the resources.
The Members has to check the resource ratings and read previous discussions before they pay and download the resource.
For a refund the member has to be get contact directly the author of the resource.
What happens to my current likes ?
We will of course transfer your current likes 1:1 to your wallet as credits. However, you have to apply for this, please ask for a
likes to credit convertion
under this thread:
This Thread is for asking us for a likes to credit convertion which is described here. Please post under this thread your requests.
www.worldofiptv.com
Purchase Credits
It is possible to buy credits again. You can purchase credits with a exchange rate 1:3
As example if you pay 10 Euro you will get 30 Credits. >>
Purchase Now
<<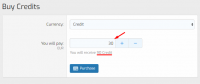 JUST TO CLARIFY, THE SYSTEM IS A BUY/SELL SYSTEM. THE PERSON WHO POSTS THE RESOURCE IS TRANSFERRED THE CREDITS FROM THE BUYER. THEY DO NOT JUST DISAPPEAR OR GET FED INTO THE FORUM. AS AN ADDED BONUS, ALL RESOURCES REQUIRE BEING LIKED AND YOU EARN CREDITS FOR THOSE LIKES AS WELL AS FOR EVERY POST, THREAD, RESOURCE UPLOADED, AND EVEN DAILY LOGIN
Last edited: