Administrator
Staff member
Administrator
Chief Moderator
Moderator
Joined

Jun 19, 2019
Messages

923
Likes

6,230
Points

101
MistServer Open Source edition of MediaServer Pro edition but there are no software limitations in the Open source version. The only difference between the pro and opensource Miniserver edition is the features. The free open source media server edition has fewer features than the pro version. The open source version is On the fly stream repackager, comes with browser-based management interface, low footprint high-performance, modular design, low latency, Multiplatform, Smart HTML5 meta player, API, Stream meta-data, and Basic analytic integration.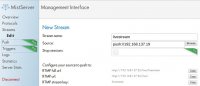 Some other features:
Stream password protection
Fast boot times
One set of binaries per customer,
Live inputs: RTMP single bitrate
VoD input: FLV, MP3, Video Output: MP4, HLS, RTMP (single bitrate), MPEG-TS (unicast), HDS, FLV, MP3, OGG,
Stream analyzers: RTMP, MP4, RTMP, OGG, FLV, DTSC
Video codecs: H264, Flash, Theora
Audio codecs AAC, MP3, Flash, Vorbis
Standard support
Supported operating systems:
Unix, Solaris, Linux x86, Linux x86_64, Linux ARM, Linux MIPS, OS X, Windows 64 bits.
Last edited: