Administrator
Staff member
Administrator
Chief Moderator
Moderator
Member
Joined

Sep 22, 2019
Messages

1,428
Likes

3,917
Points

124
Over the last month, more than 500 fake accounts have been identified and banned. As an effort to eradicate fraudulent accounts and those who aim to exploit this forum and our members for the contributions they bring, we are now moving to an Invitation Only membership. Those who are members now do not need to worry, but NEW Members will be required to have an invite from an EXISTING Member. Invitations are linked and you may generate one if you wish to invite a friend to join us.

To do so, you will want to go to your Profile Settings.

Next, you will go to Invitation Code.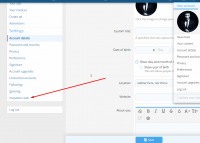 Then you will click the "Generate" button.

Use your invitations wisely, as they will be tracked.
The Validity of the generated invitation codes are 7 Days. After 7 days the code expires automatically and is no longer valid.
Last edited by a moderator: